Crossword and WordSearch For Kids
---
Free Colorful CrossWords and WordSearches
are great English teaching games for preschoolers, children or for older ESL kids. Activities below are free and printable for teachers to use in classrooms. These vocabulary games are effective way of helping children learn new vocabulary and not forget them easily.
See our
Picture Vocabulary
section to print the pictionaries associated with the words in the puzzles below.
© Save the images to your computer first to get better printouts.
ADJECTIVES WORDSEARCH
3 adjectives picture wordsearch games for kids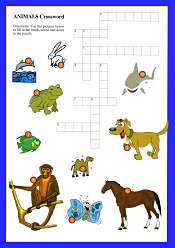 ANIMALS WORD GAMES
Printable crosswords and word puzzle games teaching animals
BUILDINGS / TOWN CROSSWORD
1. Gas Station
2. Bridge
3. Prison
4. Hospital
5. Windmill
6. Railway
7. Bank (Down)
7. Barber (Across)
8. Fountain
9. Stadium
BUILDINGS AND PLACES
1. Lighthouse
2. Factory
3. Fountain
4. Church
5. Windmill
6. Library
7. Beach
8. Bus Station
9. House
10. Hut
CLOTHING AND ACCESSORIES WORDSEARCH
Trousers
Skirt
Pullover
Suit
Sun Glasses
Gloves
Earrings
Ring
CLOTHING AND ACCESSORIES WORDSEARCH 2
Sneakers
Tie
Skirt
Cap
Belt
Boot
Necklace
Suit
T-shirt
Trousers
Blouse
Socks
Shoes
COUNTRY FLAGS WORDSEARCH
USA
Canada
Greece
Turkey
England
Sweden
Japan
Italy
Germany
EDUCATION AND SCHOOL WORDSEARCH
School
Chalkboard
Teacher
Student
Notepad
Ruler
Pencil
Eraser
Scissors
EDUCATION AND SCHOOL VOCABULARY
Glove
Bell
Map
Principal
Lockers
Student
Computer(s)
Teacher
Pencil-Sharpener
School-Bag
Abacus
Scissors
FOOD AND DRINKS CROSSWORD
1. Watermelon
2. Pear
3. Chocolate
4. Ice Cream
5. Hamburger
6. Meat
7. Salami
8. Egg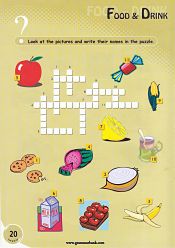 FOOD AND DRINKS CROSSWORD 2
1. Cookies
2. Onion
3. Banana
4. Watermelon
5. Apple
6. Milk
7. Lemon
8. Tomato
9. Corn
10. Tea
11. Candy
HOUSEHOLD ITEMS WORDSEARCH
Key
Candle
Sofa
Curtain
Desk Calendar
Rocking Chair
Cabinet
Window
Table
Aquarium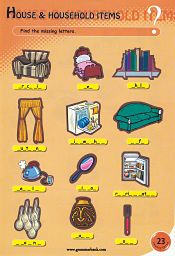 HOUSEHOLD ITEMS PUZZLE
Armchair
Bed
Shelf
Curtains
Dishwasher
Sofa
Kettle
Mirror
Refrigerator
Spoons
Vase
Fork




LANDSCAPE CROSSWORD

1. Waterfall
2. Rainbow
3. Iceberg
4. Mountain
5. Cave (Down)
5. City (Across)
6. Desert
7. Beach
8. Island









MUSICS / INSTRUMENTS
Drum
Guitar
Piano
Guitarist
Pianist
Violinist
Violin
Singer
Flute
Harp







OCCUPATIONS CROSSWORD

1. Farmer (Down)
1. Fisherman (Across)
2. Plumber (Down)
2. Painter (Across)
3. Judge
4. Shoemaker
5. Maid
6. Engineer
7. Mechanic
8. Tailor





OCCUPATIONS PUZZLE

1. Pilot
2. Architect
3. Barber
4. Butcher
5. Carpenter
6. Fireman
7. Fish Monger
8. Florist
9. Janitor
10. Librarian
11. Captain
Taxi Driver




PLANTS AND FLOWERS CROSSWORD

1. Cactus
2. Leaf
3. Tulip
4. Nut
5. Tree
6. Rose
7. Daisy








SEASONS / WEATHER CROSSWORD

1. Tornado
2. Winter
3. Summer (Across)
3. Spring (Down)
4. Rainy
5. Snowman
6. Sun
7. Windy
8. Wave







SHAPES WORDSEARCH

Circle
Heart
Pyramid
Kite
Diamond
Triangle
Rectangle
Drop
Crown
Square





SPORTS AND GAMES WORDSEARCH

Chess
Dartboard
Puzzle
Cyclist
Goalkeeper
Referee
Bowler
Basketball
Winner
Footballer





TECHNOLOGY AND COMMUNICATION CROSSWORD

1. Clock Radio
2. Telescope
3. Light Bulb (Down)
3. Laptop (Across)
4. Camera (Down)
4. Computer (Across)
5. Battery
6. Speaker
7. Monitor (Down)
7. Mouse (Across)





TRANSPORTATION CROSSWORD

1. Helicopter
2. Motorcycle
3. Lorry
4. Bicycle
5. Car
6. Boat
7. Sail Boat
8. Train







Vehicles Word-Search

1. Truck
2. Roller-Skates
3. Ambulance
4. Space-Shuttle
5. Plane
6. Sub-Marine
7. Train
8. Sail Boat
9. Bus
10. Tractor





VERBS WORD GAMES

Printable word games for kids describing verbs














<-- Go to the top of the page -->