English Grammar Exercises Online
---
English Grammar Exercises - EFL ESL Worksheets For Teachers and Learners: Online worksheets are great free resources to test your grammar skills and improve your English. Answers are given for all the exercises under each exercise. These worksheets are great for ESL / EFL as well as at school for young native speakers; 2nd grade, 3rd grade, 4th grade and 5th grade.


See
English Grammar Lessons
for rules explanations.
See
Grammar Quizzes
for multiple choice exercises.
Alphabetical List of Grammar Terms
Adjectives Adverbs Exercises
Articles - A / An / The
As As - Such As - So That - Such That Grammar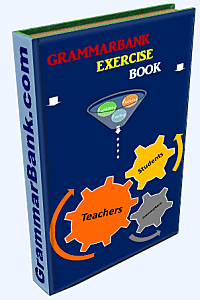 Causative Exercises
Conjunctions ExercisesDeterminers PracticeGerunds and Infinitives - Ing vs ToIf Clauses - First, Second, Third Conditionals
Modals / Auxiliaries
Nouns Exercises
Passives
Phrasal Verbs
Prepositions
Pronouns
Quantifiers
Question Tags
Relative Clauses Practice
Reading Comprehension Worksheets
Verb Tenses
Vocabulary Exercises - ESL / EFL
Other ESL Sites:

For even more exercises see AgendaWeb.org, they offer plenty of English exercises to choose from.