Printable English Worksheets
---
Free Downloadable PDF Worksheets For Teachers:
Download and print handouts, exercises and quizzes-ESL/K12
FIND MORE MATERIAL!
1. Search exercises above
2. Navigate to the page
3. Use "Print Page" on top right
Also See:
Kids English Activities
Note:
Open a file, right-click, then 'print' or 'save as' to save first if print is not possible.
More Downloadable Worksheets
VERB TENSES PDF
CLASSROOM / TEACHING HANDOUTS
HOMEWORK / TESTING MATERIAL
Mixed Perfect Tenses Worksheets:
Mixed Tenses:
PDF Exercises E-Book
For even more exercises to download and print
click on the image below to see our
Exercises E-Book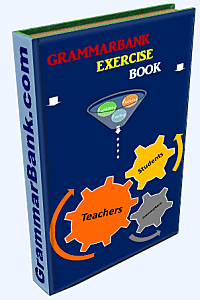 Alphabetical List of Printables
Adjectives and Adverbs
Causative Verbs
Conjunctions WorksheetsDetermines / Quantifiers / Articles
Gerunds & Infinitives / ParticiplesIf & Wish Clauses
Modal Verbs
Noun Clauses WorksheetsPassive Voice WorksheetsPrepositions WorksheetsPronouns PrintablesRelative ClausesSubject Verb Agreement
<-- Go to the top of the page -->